Centro Biblico Alto Peru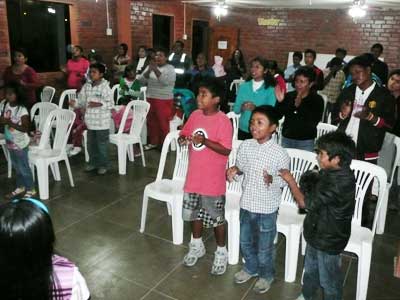 SUNDAY SERVICES: Every Sunday evening we hold services in Pimentel at Centro Biblico. Another meaning for the name of this church is "A Place to Learn the Bible." People from the neighborhood attend church every Sunday. They are learning to worship God and are learning what it means to let the Lord be in control of their lives. Catholicism has a strong hold in this town.
One of the exciting things that is happening is that the people of the church are learning to give offerings to help the church become self-sufficient. They have raised money to put in some new windows and make other improvements.
Please pray for these precious people, that we can reach more souls for our Saviour.

YOUTH NIGHTS: Every Saturday night we have a special meeting time especially for the youth. It is a challenge for them to commit because they have to give up parties and other activities in the community which would take them away from learning about God. We teach them basic Bible truths, and they are learning what it means to worship God.
We are very excited about all the youth that we are able to reach. Some of our youth are also going to the adult Bible studies. We are seeing changed lives - they are leaving the "party scene" and changing the way they talk. The kids are getting serious about God. They earn money to buy their own Bibles, so they are becoming very intent on studying the Word. This is the best time to reach people for the Lord - when they are young. A hunger for the Word is replacing a hunger for things of the world. Please pray for our youth!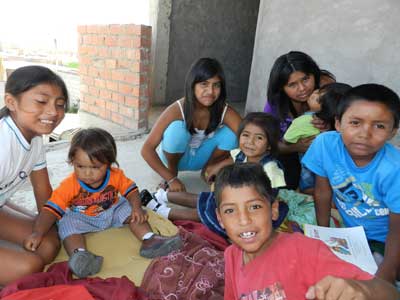 BIBLE STUDIES: We have two Bible study groups at this time. The men and older teen boys meet on Monday evenings. The women and older teen girls meet on Wednesday evenings.
Pimentel is a new area where the Gospel has never really been preached before. It is wonderful to see these adults getting immersed in the Word. Pray that more adults wil take the time to come to these studies and hear the Gospel.

SATURDAY BIBLE CLUB: Several ladies from church teach the children every Saturday morning. It is such a pleasure to watch the joy on these childrens' faces as they learn from the Word, do crafts, and sing songs. We now have many children attending Saturday Bible Club. It is exciting to watch them grow in the Lord. Also, many of the parents are interested in what their children are learning, so we are able to reach parents with the Gospel along with the children.