Centro Biblico Alto Peru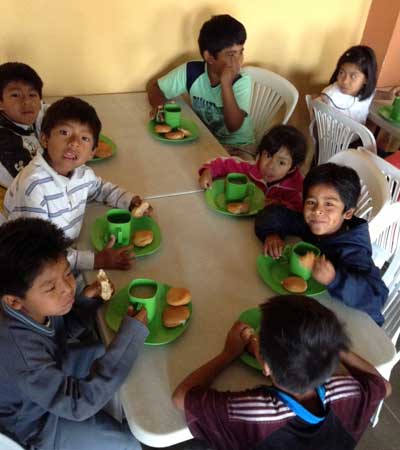 The goal of the breakfast program is to allow children who would otherwise not be able to do so to start their day off with a good meal. We feed 65-80 children each weekday at 7:00 in the morning. Many of the moms of the children are single and very poor. It is obviously very difficult for them to feed their children by themselves and to be around to take care of them. Many of the fathers who are around do not help with the income. Many are heavy drinkers and actually take away from the family by using money to buy alcohol. Because of conditions like these, many of the children go to school without breakfast and are not able to focus while they are at school because they are hungry. Some go without food for entire days, and are malnourished.
The mission of the breakfast program is to nourish these children both physically and spiritually. The physical nutrition comes, of course, from breakfast and the spiritual nutrition comes from a devotional we do each morning before we eat. God has also provided us with some medicine that we have been able to use when the children are sick. Through providing for these children like this, they are experiencing the love of Christ and some of them have received Christ into their hearts. We give thanks to God because He is touching the hearts of these children. This is the very hope that we had for this work and, ultimately, we do all of this so that these children may come to know Jesus. Thank you for taking an interest in this work and may God bless you for joining us in the work through prayers or financial support.
Breakfast consists of one, two or three rolls (depending on the child's age) and a cup of oatmeal drink. As we are able, we also include eggs, fish, yams, and yucca. They are very happy to get this extra meal!
Before the children eat, they are learning to wash their hands. This small act of hygene is something they do not do on their own. After their meal, the children clean their plates and place them in a container to be washed. They are being taught to thank the moms who prepared the meal before they leave the building. Manners and cleanliness are an important part of our program.
Back to top